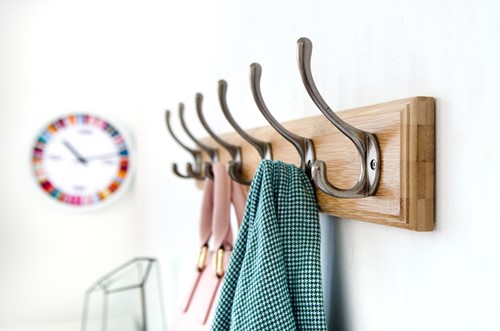 In many homes, the mudroom is the gateway into the house. In homes without a mudroom, a dedicated entryway space serves the same purpose. While it's easy to let things clutter and accumulate in these spaces, it's just as easy to find storage and organization solutions that work--no matter how much space you have. Here are some tips for adding more storage and organization to your entryway or mudroom.
Combine Cubbies & Drawers
Having a mixture of different storage spaces adds flexibility and convenience. For instance, having both open cubbies and traditional drawers in your entryway or mudroom lets you store items strategically. Store backpacks, handbags or other essential grab-and-go belongings in a cubby within easy reach while dedicating the drawer space for more long-term storage. You can be creative with cubbies, too: try adding shelves, hooks and baskets for additional style and organization.
More Hooks
Wall hooks are an excellent way to store a variety of items, especially when floor space is limited. A classic wall rack with coat hooks or pegs is a simple solution. However, to get the most out of your wall storage, try mounting hooks at different heights. This will help every household member reach their own belongings and make more room. When you stagger the hooks at different heights, you avoid some of the overstuffed wall clutter that can come from hanging bulky jackets side by side.
Everything in Its Place
A mudroom collects far more than coats and shoes. It may also be a place where you drop your keys, your mail or the newspaper when coming inside. In rainy seasons, you may also have a wet umbrella on hand. The best way to corral all of these potential items is to have dedicated spaces for each type. For example, have a specific shelf or hook for keys, a wall-mounted mail organizer and a waterproof bucket for wet umbrellas and accessories. This way, you save space and keep everything in its place.